Boathouse Microcinema was a screening series of local filmmakers in Portland, Oregon running from spring 2017 to spring 2020. Screenings took place at The Boathouse, a long-running art studio space in a converted fire boat station on the banks of the Willamette River. Originally conceived of by Matt McCormick, who enlisted Chris Freeman as a collaborator, the series was initially meant to be a 10-week project, but its initial success in the spring of 2017 led them to continue hosting screenings.
In 2018, Chris Freeman continued the series with new collaborators Amy Epperson and Shannon Neale, who brought a renewed energy and focus on centering queer and marginalized voices.
Boathouse Microcinema filled a unique space in Portland's film and art community as the only artist-run space holding regular screenings. Its three year run had over 50 screenings and events with over 250 filmmakers and artists showcased in the span of three years.
My role in this project consisted of film programming, program design, facilitating screenings, tech support, and general operations.
Pictured below from left to right is Chris, Amy and Shannon.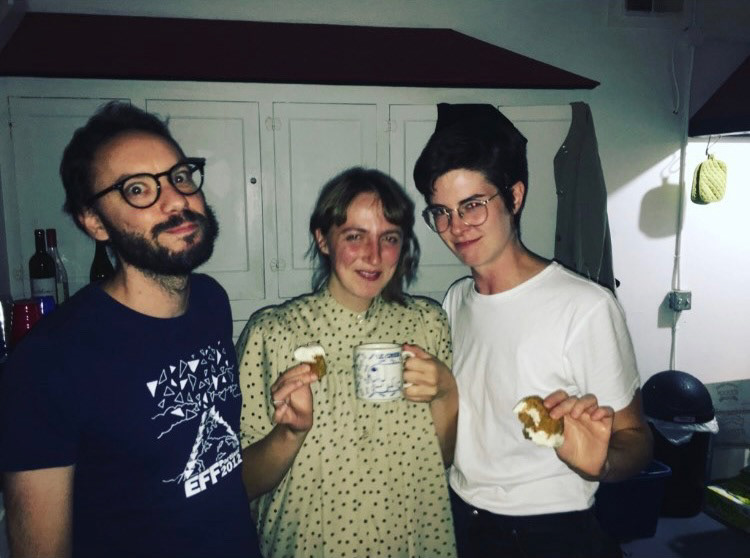 Sep 22 – Boathouse Fall Kickoff Party
Oct 7 – Getting to Know You(Tube) – presenters Chris Freeman, Seanna Musgrave, Shelby Navone
Oct 21 – Dead Media Hour presented by Stephen Slappe
Nov 4 – ariella tai – untitled (how does it feel)
Nov 18 – Leah R. Brown – Goodbye, Portland.  See you next week.
Mar 14 – Projectile Vomit: New Work in Video Installation by PSU Students
Mar 17 –  Julia Calabrese and Maura Campbell-Balkits
Mar 27 – Zoe Bullock and Jade Novarino
Mar 31 – Getting to Know You(Tube) – Presenters Steve Brown, Meg Cook, Leigh Silverblatt
Apr 7 – Scott Braucht, Spencer Garland, Jordan Shelby
Apr 14 – Roland Dahwen, Pam Minty, Julia Oldham
Apr 21 – rubén garcía marrufo – delineation of breaths
Apr 28 – Garrick Duckler – Presenting Problems
May 5 – GODDEX RESISTRIX Programmed by Hannah Piper Burns
May 11 – Pink Noise III Curated by Sarah Turner and Hannah Piper Burns
Sep 10 – Staff Area
Sean Christensen, Cosmic Siblings, Dylan Jones, Midnight Variety Hour, Erin Tanner, Fern Wiley
Sep 17 – Comprehensive Planning
Elijah Hasan, Howard Mitchell aka GATO, and Perry Shimon
Oct 1 – Ways of Being in the Metaverse
Nico Daunt, Michelle McKay, and Codec Ultra
Oct 8 – Getting to Know You(Tube)
Presenters Clamber, Zack Fleming, and Kacy McHugh
Oct 22 – Works in Small-Gauge: 16mm and Super 8 films
Curated by Nicole Elaine Baker
Oct 29 – Moonlighting
Locally-produced horror films for Halloween curated by Monstrous Femme Films
Nov 5 – FEELING EXPOSED
Melina Coumas, Katrina Edelen, and Christof Whiteman
Nov 19 – Flowers are Dogs Smiling, Waving
Lindsay Costello, Maggie Shiple, and Lucas C. Ospina
Cancelled due to the Covid-19 pandemic.